Approximately nine miles of trails fan out from the village, through the wildlands and along the perimeter of the island, scaling cliffs that are among the highest in Maine.  Some of the trails, marked on the trail map are suitable for families with small children or people with limited time or physical prowess; others are considerably more challenging. Monhegan trails can be narrow, rugged, and rocky with wet areas, exposed tree roots, steep climbs, sheer drops and dense growth. Use our trail map to plan your route according to your ability.
PLEASE HIKE WITH CAUTION: 
Wear appropriate footwear, carry sufficient water, use insect repellent, and hike with a friend.
Be alert for poison ivy and wasps nests 
Stay well above the high tide line and black rocks on the headlands side of the island, between Green Point and Lobster Cove. Do not swim, wade, or scuba dive in these areas. Tidal currents and undertow make rescue impossible.
Smoking, wheeled vehicles, fires, camping and the use of drones are all prohibited on Monhegan Associates' land.  
Please refer to our LAND USE POLICIES for further information,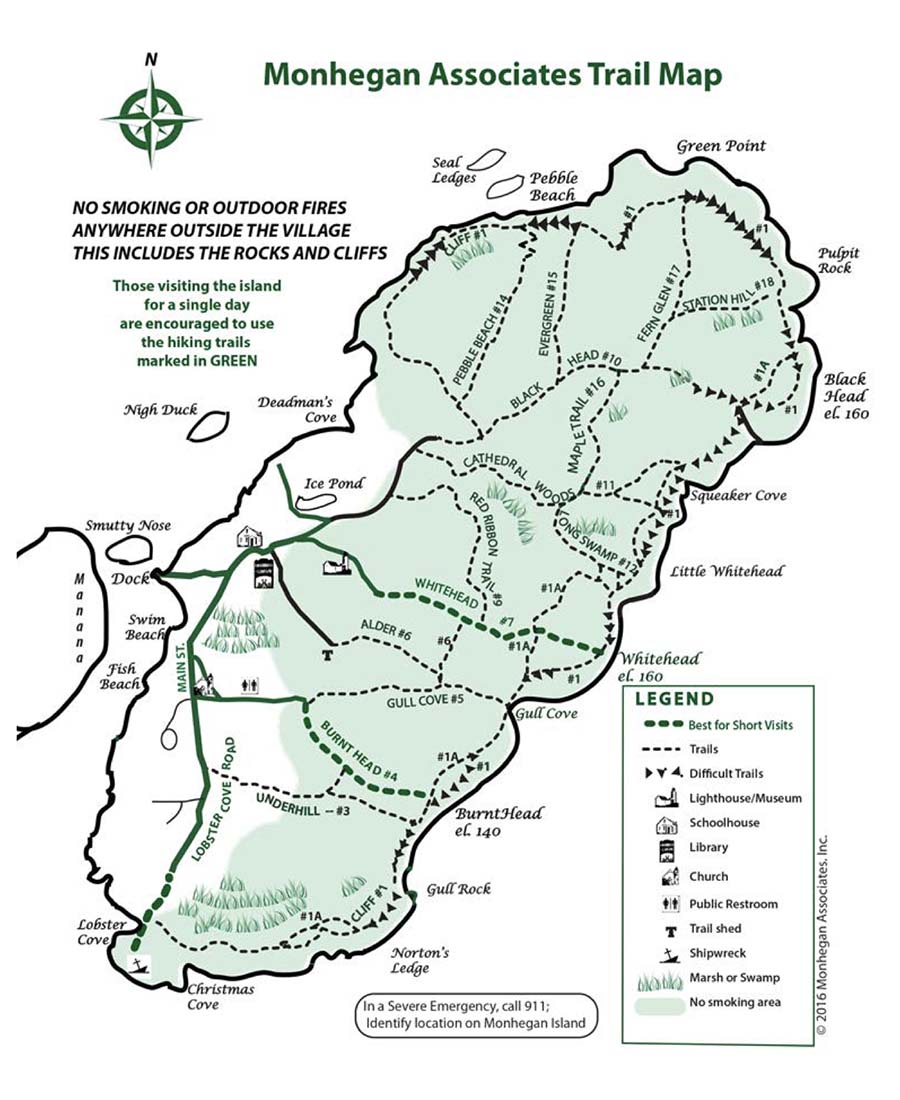 The map is presented as information to those off island who want to get an idea of the "lay of the land" before coming out. The Trail Map is available for a nominal cost from the boat ticket booths of the Monhegan Boat, the Hardy Boat, and the Balmy Days, and at various shops and trail-boxes around the villages, please pick up the "real thing" as you arrive.
Trails on the map are indicated by number, name, and level of difficulty, and marked at each end and at junctions with white trail numbers on small green blocks of wood on trees.