Monhegan Nature Guide
The stunning full-color nature guide written by former Monhegan Associates Intern Lillian Harris. It's perfect for toting on the trails. $20 plus shipping & tax. It is for sale on the island or here via Paypal, or in a Maine bookstore near you!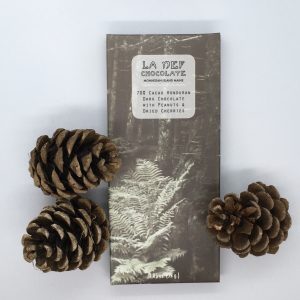 Monhegan based chocolate makers La Nef Chocolate debuted a Monhegan Associates Inc. bar in 2020. The bar is 70% Cacao Honduran Dark Chocolate with Peanuts and Dried Cherries. A portion of all sales go to support our stewardship efforts to preserve the 350 acres and 9+ miles of trails that make up Monhegan's wildlands. The package features the photography of Warner Taylor and can be purchased through La Nef's website (https://www.lanefchocolate.com/).
Thank you La Nef Chocolate for your support!